MAGNETIC THERAPY EYE MASK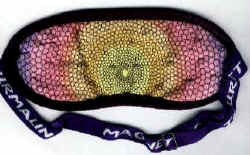 We Accept All Major Credit Cards


USE Our Secure Server
Provided By



If you are unsure of which product is best suited to your specific requirements/problem/ailment please contact our helpful advice line.

Monday - Friday 9.00 - 5.30pm
Telephone: 01628 624581
Or E-Mail:

Treat your pain with the comfort of magnetic therapy. Studies have shown that this non invasive therapy relieves pain and helps promote the body's natural healing process by improving oxygen exchange to injured area.

Magnetic therapy is a complementary way to enhance the relief of pain. The magnets themselves do not heal they create an environment in the body that helps speed up the natural healing process. It is believed when the blood stream passes through a magnetic field, it stimulates the blood stream & nerves while raising the blood oxygen level to promote the health of every cell.
WE ADVISE THAT MAGNET THERAPY SHOULD NOT BE USED IF YOU WEAR A HEART PACEMAKER.

MAGNETIC THERAPY PRODUCTS MAY HELP WITH THE FOLLOWING CONDITIONS:

If you would like us to recommend which product to use for your condition please contact us on the above numbers!
| | | | |
| --- | --- | --- | --- |
| Acne | Bursitis | Fibromyalgia | Osteoarthritis |
| Allergies | Cataracts | High Blood Pressure | Poor Circulation |
| Asthma | Chronic Fatigue Syndrome | Infections | Rheumatoid arthritis |
| Back aches | Colitis | Insomnia | Sinus Congestion |
| Bunions | Cramps | Menstrual Cramps | Spondylitis |
| Burns | Earaches | Migraines | Tendonitis |

MAGNETIC THERAPY EYE MASK


Our magnetic eye mask has 18 bio ceramic magnets each one being 800 - 1000 gauss these healing magnets will help revitalise and rejuvenate your tired, red, puffy eyes. The mask helps to reduce bags under the eyes by drawing away the excess fluid under the eyes. Dark circles will decrease and wrinkles appear smoother. Results can be seen very quickly usually within a couple of days the skin will appear firmer around the eyes and lines are fainter.

Prolonged wearing will increase the effects. For best results, the Equimagnets eye mask should be worn very night whilst sleeping. It can also be used during the day before an important night out or whilst in the bath before getting ready to go out. This will give a last minute lift to the eyes before going out.

Apart from helping you to keep your youthfully appearance our magnetic eye mask is ideal for helping to tackle such ailments as conjunctivitis, sinusitis and mascular degeneration.

One size fits all.

Colour - Black
Size: Universal


Prefer to send a cheque or post your credit card details?
Click here for Order Form

N.B. Magnetic Therapy is not a substitute for sound medical advice, if you or your horse/pony, dog are unwell we recommend that you, visit your doctor or consult your veterinary surgeon. Equimagnets do NOT accept liability for customers use of our products.
Copyright© Equimagnets.co.uk 2001 - 2005 All Rights Reserved